A.C.M. Co.
- This is the first name used for the Falcon Flour Mill in McMinnville.
Annis Cotton Mill
- See Woodman Mills.
Blankenship Mill
- See Tosh Mill.
Cantrell Mill
- See Faulkner Woolen Mills.
Davis Mill on Gaston Branch - additional - The mill was owned by Robert James and Absalom
Davis. It was conveyed by them to David Davis.
Farmers Mill and Elevator Company
- See Simpson's Mill.
Goldson, John and his son, Wiley - See Rock Island Mill.
Goodman, Builder of dams
- See Willam's corn, flour, and saw mills.
Johnson's Mill
- See Brady & Haston Mill.
Macon Mill on Hickory Creek
was operated by Henry Macon.
Meeks Mill
- See Brady & Haston Mill.
Passons' Mill on Laurel Creek
- See York's Mill on Laurel Creek.
Powder Mills
- See Pitt's Bottom and Sperry & Lane Mill. A powder mill was also operated
during the Civil War up in the Cunningham Valley towards Lost Creek. Salt Petre was found in a nearby cave.
Randall's Mill
- See Brady & Haston Mill.
Robinson, James, Mill
- See Carding Mills.
Reno Mill Supplement
- The original grant covering Reno Mill was to Elijah Hill in 1808, then to
Anderson in 1822, to John E. Turner in 1841, to Robert Love and then to James Hardin in 1841, to J.G. Phifer in 1843, to L.H. Bixford in 1884 and to Reno in 1890.
Walker, Mayor J.J. was born in July 1867 and died March 27, 1959.
Sketches and Property transfers on next [book] page [see below] to help identify some land titles.
---
Butt's Ford Area [& Above]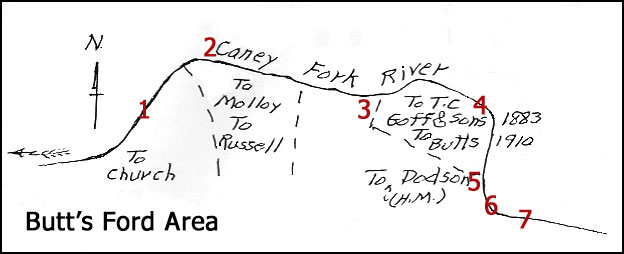 640 acres purchased by John Porter on the south side of Caney Fork River in 1812 which he paid for with one horse and one man (slave). The part marked Molloy was sold to Daniel Dale and William I. Molloy in 1837. It was later sold to John Yates*, in 1844.

9 1/5 acres deeded to the Church in 1860. Part of the original Porter land went to ____ Mitchell in 1852. Butts, Molloy and Porter names were all applied to the for at one time or another.

Webmaster notes:
The numbers on the above drawn map indicate approximate locations of features that existed here at various times:


Butts ford & bridge
Lost Creek (or "Wallace Creek") mouth
Fraiser's Chapel Church
Chattanooga Ford & wire foot bridge
Dodson's Store
Mitchell (or "Amos Dodson") Bridge
Mitchell Ford
*A "John Yates" was a Methodist preacher from this area in the mid-1800s era. He was somewhat infamously known (as per the local legend) for killing his horse with his pocket knife, for no known reason.
The "Russell" who purchased land from Molloy was probably Matthew Russell, father of Oscar Russell who lived on this land during much of the 20th century.
As per Mary Ruth Davis Haston (wife of Boyd Haston & daughter of George Vergil Davis), H.M. Dodson would have been "Harv Dodson," father of Amos Dodson (who operated the Dodson store in the early 1900s). "Harv," she said, "was the brother of great grandma Davis." (December 2003)
---
State of Tennessee to John Plumlee 1824 Grant 656. See sketch below and next page.

John Plumlee to Robert Brown 1835 Bk. I, p. 307.

Robert Brown to Henry Kuhn and Samuel J. Parker 1836 Bk. L, p. 271-2.

State of Tennessee to Henry Kuhn and Samuel Parker 1847 Grant 9476, mentions "above Parker still house and below the ford on Caney Fork."

Kuhn, Felton and Wallace shown in the sketch below were the owners of the land when the original drawing was made in 1912.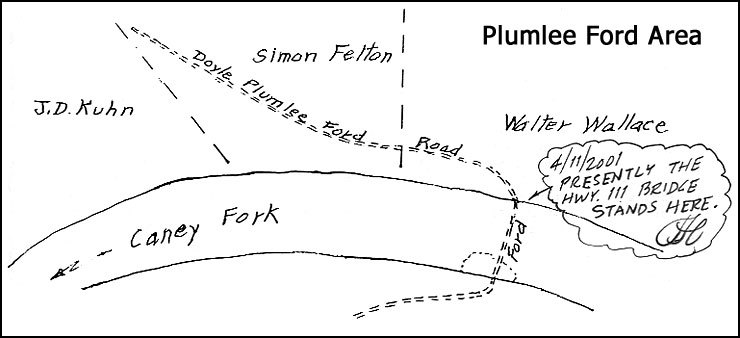 See sketch on next [book] page [see below] for relative location of Plumlee and Scoggin grants.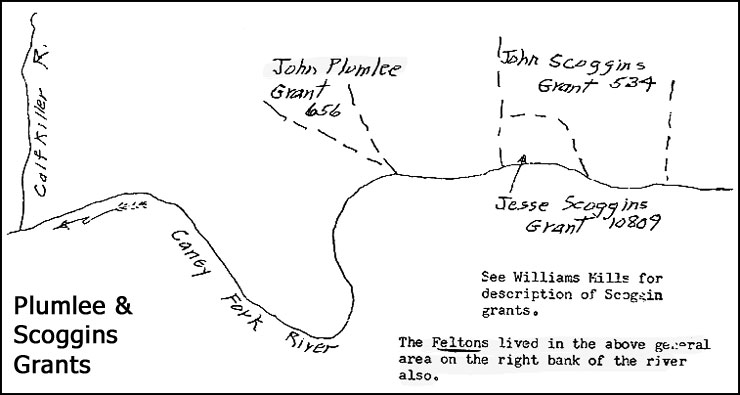 ---
William Wallis (Wallace) to Joseph Berry* Felton 1853 100 acres on the north side of Caney
Fork Bk. R, p. 453. (from grants 22464 and 12767) *Bk. 29, p. 458.
Joseph B. and wife, Drucilla Felton 1876 to Jacob A. Stipe Bk. Y, p. 357-58.
William Felton and wife Bessie 1902 Bk. 41, p. 498-500.
William Felton and Emma, his wife 1902 Bk. 41, p. 494-95.
John Felton and wife, Nancy 1904 Bk. 45, p. 329-30.
James Felton and Jane, his wife 1904 Bk. 45, p. 417-19.
S.C. Felton and Molloe his wife 1910 Bk. 53, p. 32-35.
Note: The above have been listed because of the names and family relationships.