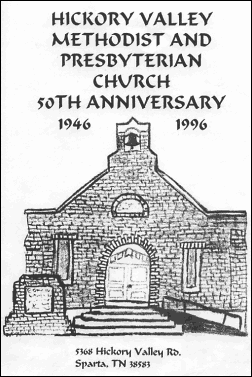 The Hickory Valley Methodist and Presbyterian Church is a united congregation established in 1946 by the merger of three denominations -- United Methodist, Cumberland Presbyterian, and Presbyterian U.S.A. The membership of these three congregations joined together as one community of faith and have worshiped and fellowshipped together for fifty years. Through the years ministers from each denomination have served on a rotating basis each Sunday. For many of our ministers pastoring a three-in-one congregation has been a unique, and, hopefully, a rewarding experience.
Prior to 1946, a small congregation of Methodists met in the Rogers' Chapel School building. This was located at the intersection of Haston Road and Blackburn Mountain Road. Through the years our Methodist sector has been a part of the Doyle, Caney Fork, and Sparta First charges. Presently (1996), we are a part of the Sparta First charge and are served by the Rev. Donald Bailey.
Before the merger, the Presbyterian U.S.A. Church was known as the New Presbyterian Church and was located across from the J.M. Passons's residence. While the present church was being built, all three congregations met for worship and Sunday School at the New Presbyterian Church. Shortly after the merger in 1946, the New Presbyterian Church house was moved by the Presbytery to Blue Springs Presbyterian to be used as a community center. We are not served by a Presbyterian minister at this time (1996).
The Cumberland Presbyterian congregation met in Old Union Church. This church was organized about A.D. 1811 by Rev. William Barnett. Spence Mitchell, Robert Gamble, and Jesse Scoggins were the first elders, and David Haston was first clerk. The Rev. Richard Bond currently serves as our Cumberland Presbyterian minister (1996).
These three congregations combined their efforts and consolidated into one church in 1946. The present church was built on land that was donated by W.R. and Irene Greene. The deed for the land was registered on February 11, 1946. Roy Hudgens built the church with the help of members. Preliminary guidelines and proposals were developed with input from members of each congregation to govern them in this unification process. The first meeting in the new church was held in April 1946.
Fifty years ago the members of three congregations realized the need to work together to better serve the Lord. Their foresight and determination established a church that has served the needs of its members and the community through the years. Three became one--united in a unique congregation.
Source: 50th Anniversary church directory (see cover above).